Der ultimative Leitfaden für die Migration in die Cloud
Um die Grundlage für eine moderne Anwendungsentwicklung zu legen, die Agilität zu erhöhen und die Kosten zu senken, migrieren IT-Verantwortliche ihre Infrastruktur in ein Cloud-Modell, das häufig mehrere Public Cloud-Anbieter und das eigene Rechenzentrum umfasst.
Die Migration in die Cloud kann verschiedene Herausforderungen mit sich bringen, darunter:
– Zeit und Aufwand für Refactoring von Anwendungen für Public Cloud-Umgebungen
– Fehlende spezialisierte Cloud-Kenntnisse für den Betrieb der neuen Infrastruktur
– Inkompatible Infrastruktur bei verschiedenen Cloud-Anbietern
– Betriebliche Komplexität und Bedenken hinsichtlich Sicherheit und Compliance
Laden Sie dieses E-Book herunter und erfahren Sie mehr über diese Herausforderungen einer Migration und wie VMware Cloud Ihnen bei der Bewältigung dieser Herausforderungen helfen kann und Ihnen die Migration erleichtert.
View E-Book

Provider: VMware UK Limited | Size: 13.2 MB | Language: German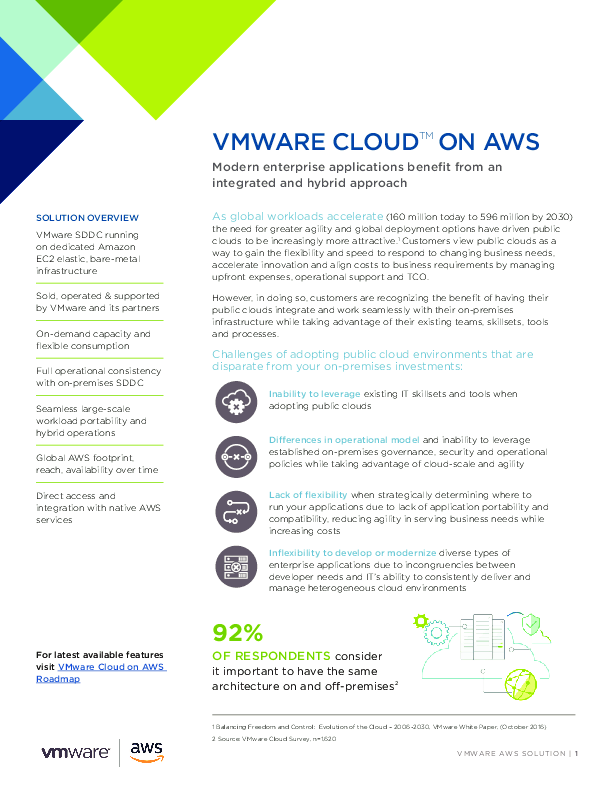 Featured content
Modern enterprise applications benefit from an integrated and hybrid approach
As global workloads accelerate (160 million today to 596 million by 2030) the need for greater...