Die 5 größten Herausforderungen beim Management virtueller Desktop- Infrastrukturen
Im modernen Arbeitsumfeld steht Desktop-Virtualisierung ganz oben auf der Liste der IT-Prioritäten. Entscheidungsträger müssen virtuelle Desktops und Anwendungen bereitstellen, mit denen Unternehmen flexibel auf sich rasch ändernde Anforderungen reagieren können – ohne die Komplexität, die mit dem Management von On-Premises-Infrastrukturen verbunden ist.
Wenn sich Unternehmen für das Cloud-Betriebsmodell entscheiden und Lösungen zur Unterstützung ihrer Anwender untersuchen, ist das Verständnis damit verbundener Herausforderungen unverzichtbar:
• Auswahl der richtigen Infrastruktur
• Interoperabilität zwischen Bereitstellungen
• Personalisierung und Management Ihrer VDI-Bereitstellung
• Skalierung bei erhöhten Anforderungen
• Gewährleistung der Sicherheit von Desktops und Anwendungen
Laden Sie das E-Book herunter, um zu sehen, ob VMware Horizon on VMware Cloud on Dell EMC die richtige Lösung für Ihr Unternehmen ist.
View E-Book

Provider: VMware UK Limited | Size: 2.05 MB | Language: German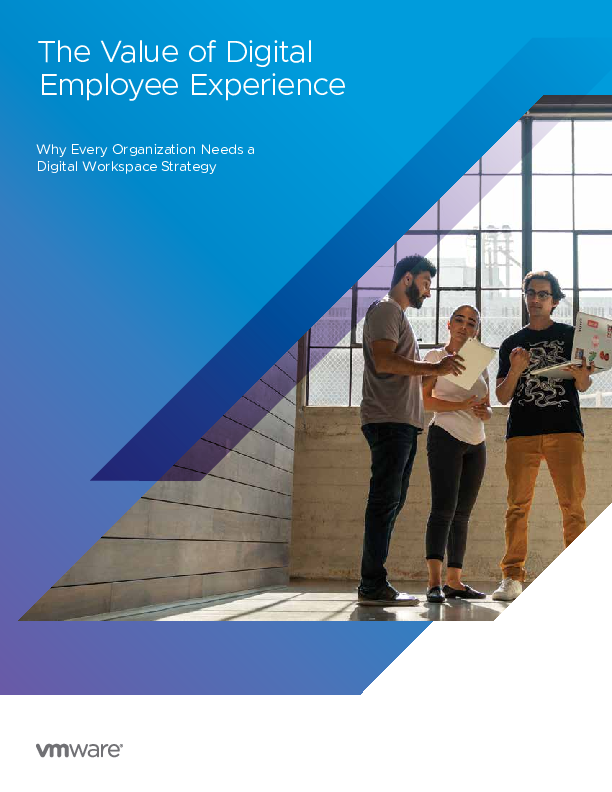 Featured content
The Value of Digital Employee Experience
The Value of Digital Employee Experience survey reveals how beyond introducing new technologies...