Cut the Wait - Fünf Schritte für einen schnellen Kundenservice
Nach der Pandemie hat Kundenbindung Vorrang vor Wachstum. Untersuchungen zeigen, dass die Kundenloyalität in den letzten 12 Monaten einen schweren Schlag erlitten hat.
Freshworks analysierte 107 Millionen Support-Interaktionen und es stellte sich heraus, dass Geschwindigkeit der wichtigste Faktor zur Verbesserung der Kundenzufriedenheit ist.
Laden Sie das #CutTheWait Playbook herunter, um ein besseres Verständnis zu erhalten:


Warum der Kundenservice ein Schwerpunkt in Ihrer Wachstumsstrategie sein sollte


Warum die Geschwindigkeit des Services ein Schlüsselfaktor für die Kundenzufriedenheit ist


Wie Sie die Geschwindigkeit des Kundenservices in fünf einfachen Schritten verbessern können


View report

Provider: Freshworks GmbH | Size: 2.16 MB | Language: German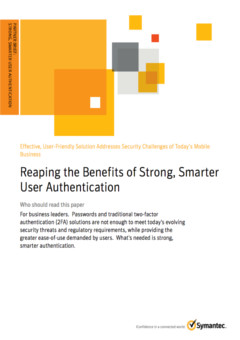 Featured content
Reaping the Benefits of Strong, Smarter User Authentication
For business leaders. Passwords and traditional two-factor authentication (2FA) solutions are not...